Diet Counselling
Mrs. Lisa Sarah John, M.Sc (Nutrition &Dietetics)
Diet Counsellor & Consultant
Consultant to National Cricket Academy
Consultant to Prakash Padukone Badminton Academy
Columnist – The Times of India & Vanitha Magazine(Malayalam)
Fitness Consultant on 91 FM RADIOCITY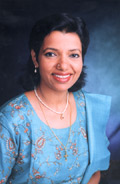 Lisa Sarah John is a Diet Counselor and Nutritionist. A Postgraduate, with distinction in Nutrition & Dietetics, from Women's Christian College-Chennai. She was also a Research Assistant for the Indian Council of Medical Research, Nutrition Research Center, at St John's Medical College Bangalore.
She is a full time Consultant, presently working with diet and diet related health problems like Underweight, Overweight, Diabetes, Hypertension, Heart Disease, Gastric Problems, Cancer, etc. and has counselled thousands about a healthy lifestyle. She is a regular columnist for the Times of India and Vanitha magazine – Malayala Manorama. She is the Consultant to the National Cricket Academy and Prakash Padukone Badminton Academy.
She comes with years of practical experience. An overweight person from age nine to thirty six. She has tried every formula on weight reduction before coming upon her very own formula, which helped her, reduce 25 Kgs and maintain it. A mother of three, she believes that age or sex doesn't matter for anyone who wants to be fit and healthy. She loves giving inspirational talks at Corporates, Social Organizations and other places, challenging people to live a healthy and wholesome life.
On 26th June 2000 she was invited to address the Commonwealth Youth Conference held here in Bangalore for delegates of 7 neighbouring countries. She has also spoken to the Punjabi Welfare Association. Y.W.C.A., Rotary, College Students and Corporates like INTEL, MOTOROLA, BHEL, INFOSYS, PETFORUM and Prakash Padukone BADMINTON ACADEMY. She has also featured in the Cosmopolitan magazine, Elle magazine, Femina, City Reporter, Vanitha - an international Malayalam Magazine and various other Malayalam papers, Radio City Breakfast show, Technology Management Group T.V Programme- (Chatterati) and Jeevan T.V. Cochin.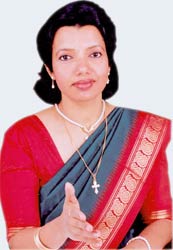 On 30th Jan. 2003 she has made a presentation on Sports Nutrition at the Seminar on Sports Medicine and Fitness conducted by the Asian Cricket Council at the National Cricket Academy (NCA), Bangalore. Coaches, Trainers and Fitness Co-ordinators from 14 Asian countries attended this. She has also had an interactive Diet & Nutrition session with the Indian Cricket Team addressing 36 selected players, their coach Mr. John Wright, trainer and physio, during the Probables Camp held at the NCA on 5th September 2003. She has personally counselled Anil Kumble, Rahul Dravid , V.V.S. Laxman and V.Sehwag.
Radio City 91 FM of Bangalore city now has a Fitness capsule aired trice a week with Lisa as their Fitness expert.
Lisa believes that a little care to eat healthily, a little effort to exercise regularly and a couple of liters of water a day will keep most of today's diseases at bay "It is your God given right to be Healthy, Wealthy and Beautiful - don't give it away!!"
Contact: 330, 1st A Main, 8th Block, Koramangala, Bangalore – 560095.
Tel.: 25719234, 25710524. Email:info@lisamiraclediet.com & lisasarahjohn@hotmail.com
Website: www.lisamiraclediet.com