Eat Healthily during Menopause
Earlier women were seen to menopause between the age 50 -55. Now a day's most women are seen to menopause between 45-50 years of age. Some people show symptoms of menopause even from age 40 if they have gone through severe stress or some tragedies in their life.
The message I would like to convey to women on the threshold of menopause is that at least now take time to care for yourself. We are always busy feeding husband, children, grand children, aging parents, etc. Now make time to feed yourself properly and eat healthily. It is a time when some women bleed heavily (before menopause) which leads to heavy iron loss from their body. Foods rich in iron must be consumed. Eat plenty of whole pulses like channa rajma, moong and dhals. Make it a must to eat whole-wheat atta chapatis or bread at least in one or two meals and chapathi is preferable at dinner. Please note that greens which contain a lot of iron, unfortunately has been found to have an inhibitor substance which prevents their iron from being absorbed into the human body. Vegetarian source of iron is mainly from dhals, pulses and wheat. Fish and poultry are also good sources of iron. Besides this make sure that you eat plenty of fresh salads, fruits and vegetables which contain B and C vitamin which improve the absorption of iron into the body.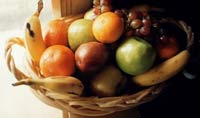 Iron deficiency is one of the world's greatest nutritional deficiencies. It is mainly a result of imbalanced meals and skipping of meals. Most women in menopause tend to put on weight and resort to skipping meals or having only a plate of fruits or a glass of milk for a meal in order to lose weight. Fasting on one or two days in a week during this time will also lead to anemia.
Many women tend to put on a lot of weight as they enter menopause. This leads them into complications like high BP, diabetes, heart disease and arthritis. They must follow a strict low fat, high fiber diet and bring down their weight. This is also a period when many women are prone to cancer. Latest research shows that those who have a high percentage of fat in their bodies have a greater chance of getting cancer as the fat provides a medium for cancer cells to grow. Breast cancer and cancer of the ovaries or uterus are common in women in their 40's and 50's.
Besides eating three carbohydrate and protein balanced meals along with fruits and salads daily you must make a conscious effort to drink atleast 500 to 700ml of skimmed milk or curd daily. During the hormone change in menopause we have seen that the calcium in the body is depleted and this is a time when serious damages to the neck, spine, shoulders and knees can happen, not to mention hair fall and teeth problems.
Walking is a must. There may be discomfort in regular gym workouts, weight training, aerobic exercises, etc. You need to listen to your body and even if you give up any of these you must walk. A 30 minutes brisk walk daily helps to produce positive hormones called endorphins which will relieve stress and depression. Also the walk raises your metabolism which comes down with menopause. Some people find it more useful and relaxing to walk twice a day,30 minutes in the morning plus 30 minutes in the evening.
One more difficult problem with menopause is hot flushes and heavy perspiration. This can leave you very exhausted and depressed. Two to three liters of plain water is a must everyday.