Ideal Weight Loss Diet for Players
When you have just 2 weeks to an event, tour or tournament and your trainer says you need to drop 5kgs of weight, what will you do? There are many suggestions and diet plans that other players may recommend. The trainer or coach may have a plan as well. The issue is whether the recommended plan is nutritionally healthy and safe for your body. Please note it is not anybody's body but your own, so please be very careful about the diet plan you choose.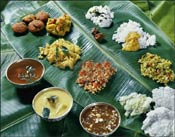 The first thing any player needs to know is that for a player diet and fitness is something you have to take care of year round, off season and throughout the season. There is no healthy, scientific method by which you can ever lose 5kgs in 2 weeks. If you do, I assure you that the method you have chosen is absolutely wrong and you will be doing some serious damage to your body composition. Humanly it is not possible to remove 5kgs of fat mass in 14 days. Scientifically it is safe to lose about 1-1.5kgs of fat in 14 days. If you have chosen a diet plan which helped you to lose 5kgs in two weeks, then you would have lost 1.5kgs fat, 1.5 -2kgs muscle mass and about 2kgs of water. Also when the body breaks down muscle tissue it produces waste products which can damage your kidney function and blood levels of urea and uric acid will be raised and this is harmful to your joints and performance.
If you lose weight, the ideal weight loss is half to one kg per week or 2-4kgs in a month. Anything beyond this is dangerous.

You must make sure that all 3 meals are balanced meals. There must be carbohydrate foods like bread, rotis or rice in every meal, combined with a protein food like milk/curd, dhals/pulses, egg or fish and poultry (chicken). If the breakfast has only fruits or only eggs and milk it is wrong. If the lunch has only a plate of boiled vegetable or only meat and salad it is not balanced. If dinner is a bowl of soup and salad or vegetables, this too is wrong.

A proper breakfast will consist of bread, egg whites and skimmed milk or idlies, sambar and skimmed milk, cornflakes and milk, stuffed rotis and curd, etc. Lunch should be a combination of rotis and /or rice with dhal, vegetables, curd, salad and non-veg too may be eaten. Similarly, dinner too must be a balanced meal of rotis, dhal and vegetables. Many tend to omit the dhal at night. Please note roti and vegetables are both carbohydrate foods so you must have a bowl of dhal or chole, rajma or moong, along with the roti and vegetables and curds and salad are also useful.

Last but not the least is the main principal for losing fat. In order to remove fat from your body you must stop putting fatty foods into your mouth. Oil used in the cooking of food should be the only fat intake. Cream of milk must be completely removed, all addition of butter and ghee must be totally stopped and all fried snacks and all sweets must be given up completely. You must quit fried food and sweets for a short period of time and during this period not even a bite or taste of it should be taken. If you do this for one month you can easily lose 2- 3kgs.
To sum up, players trying to lose weight must,
Never skip a meal
Every meal must be carbohydrate and protein balanced.
All Fried Food, All Sweets and Cream, Butter, Ghee must be completely avoided for a short period of time.