One of the biggest bug bears of weight loss programmes is seeing the weight get stuck. Is something wrong with the scale? Is something wrong with my body? Is something wrong with the programme?
Here are the some facts you need to keep in mind
1. If you are on a programme where you are only focusing on heavy exercises and working out and not following a healthy, low fat eating or diet plan then you will see the first 3-5 kgs drop and then the weight will not budge.
If you are following a rigid diet plan but not maintaining a daily cardio exercise plan (eg at least 30 minutes, brisk walk or treadmill daily) you will see the first 2-3 kgs drop instantly and then get struck.
Don't waste your time. If you are seriously trying to loose weight you must exercise daily with a cardio session of 30 minutes walk, treadmill or jog, all 7 days, along with a diet plan which totally avoids fatty food, namely, all fried, all nuts, butter, ghee, cream of milk, chocolates, all sweets and red meat for the duration of the programme. You must eat 3 regular, balanced meals and a lot of fiber in the form of fresh salad, fruits and whole wheat roti or bread for carbohydrates.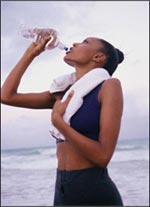 Along with this you have to drink 2-3 lts water daily. The secret is to do a combination of all these 3 factors, walk, water and diet together to get a steady loss of 2-3 kgs a month, or about 10 kgs in 3 months and more if you wish to continue. We have seen a 21 year old girl loose 30 kgs in 10 months, several who have lost 10 kgs in 3 months and I have lost 25 kgs in one year at age 35.
If however you are just 3-5 kgs over weight, since you don't have so much fat to loose, you may loose only ½ a kilo a week or sometimes only 1 kg in a month. If you are very particular stick to the rules for the month or months and get to your dream weight.
The simple rule for ideal weight is if you are 170 cm in height then your ideal weight could be 70 kgs, or 70 kgs, plus or minus 2 kgs, plus or minus 5 kgs maximum.
2. One more factor to bear in mind is if there is any hormone problem you are suffering from or if you have any family history of any hormone problem, you may see a resistance to weight loss. Thyroid problem, polycystic ovaries or fibroids in the uterus or a diabetes problem can all make weight loss a nightmare. You may not loose weight, you may loose weight very slowly, or you may loose 5-10 kgs and then get stuck. A good dietitian or counselor and doctor may be able to help you.
3. Finally we have the age factor. Definitely we have seen that it is quite simple to loose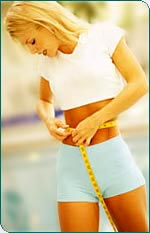 weight upto age 35, for both men and women. After 35-40 we see a major slump in the metabolism. Most people are alarmed at how they are gaining weight or how BP or heart disease or diabetes has crept up on them so they try to diet and exercise and be conscious by age 40-45. Again we see a big slump around 50 so this is the most dangerous time.
Try to get healthy and fit as early as you can as prevention is better than cure.