Diwali and Christmas are dangerous times for the health and fitness conscious people. Beware, all the hardwork you have put in through the year can be wiped out in a few weeks of party eating and drinking. So take it as a challenge to be careful, to make an effort to save and protect what you have achieved over the past few months and walk into the New Year with your head held high and your body in good shape.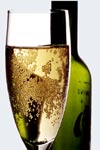 This article is an appeal to those who host parties to help and support the cause of good health and wellbeing for those you invite. Take a little trouble to have food that a dieter can stick to while the others have a blast. Starting from the drinks, please try to have fresh lime and soda available for those who are not drinking instead of only pepsi or sprite. Try to have some good red or white wine as this is the least harmful of the liquors (Note even this 1-2 glasses, 100-200ml is the limit).
Hosts are meant to offer more and more but make a resolution not to force your guests to drink or eat more than they want to. Break the tradition that a good host is one who plys the guest to have more and more. Instead respect his or her effort to control themselves. Allow people to drink water or soda if they are staying long instead of more and more alcohol.1 large drink or 1 glass beer is approximately 7 teaspoons sugar or 150 calories and all these calories are converted to fat and stored as the body does not expend many calories at night.
Along with the starters please make sure you serve salad sticks of cucumber, carrot, raddish, lettuce etc. Donít put mayonnaise etc., dressing on them. Serve the dressings separate always and try to create some dressing from skimmed milk curd or hang this curd and make a dip. Serve low calorie crackers and bread sticks as starters.
In the main course even if you plan to make a biriyani, fried rice, noodles or pasta please serve some whole wheat bread, bread rolls or dry atta rotiís ( phulkas or tandoori roti). One of the biggest findings we have is that avoiding non-veg at dinner helps tremendously in reducing weight and keeping it off. The sad part is that in many party situations there may be only a nonveg biriyani or only nonveg side dishes and a salad or raita.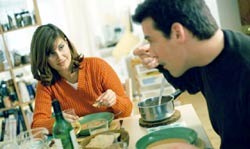 Please try to provide a light dal or a lightly seasoned channa, rajma or sprout dish so that those avoiding nonveg will get their protein part of the meal. Also most often vegetable dishes are made very oily and rich. Please try to serve vegetables lightly sauted or dry without thick oily or coconut gravies. Also veg soups are more healthy than nonveg soups. Curds or raita and salads are a must. Try to keep deserts fruity. Have a platter of cut fruit, have a fruit salad and custard or serve some colorful jelly which is very low calorie. The jelly may be set with chopper fruit in it.
Last but not the least try to wind up at a reasonable hour so that people can catch a few decent hours of sleep and not miss their morning walk. The worst damage is done when you miss your walk for 5-10 days continuously. The metabolic rate of your body which you have built up over the past months drops and the weight rises rapidly. If you miss your morning walk, walk in the evening. Remember you must walk. Also even if you may have over eaten a little at night never skip your breakfast. Skipping breakfast also lowers the metabolism and results in rapid weight gain. There is no compensation so think before you eat and be party smart this season.